As we find ourselves at the midpoint of 2023, it's a perfect opportunity to pause and reflect on the housing market's journey so far this year. The prevailing question on everyone's mind is what the second half of 2023 might hold. Join us as we delve into the major trends and factors shaping the housing market and explore the potential outcomes for the rest of the year.
Resilient Home Prices Amidst Shifting Dynamics
One of the standout stories of the housing market in 2023 has been the remarkable resilience of home prices. Despite mortgage rates hovering around 7% and a considerable 50% drop in sales volume from June 2021 to June 2023, prices have managed to stay relatively flat or even declined by a marginal -3% YoY, depending on the source.
Contrary to widespread predictions of a market crash, recent trends indicate that home prices could potentially see an increase by the end of the year. Many analysts, including myself, initially anticipated a correction of around 3-8% in the housing market, but the ongoing price resilience has surpassed even our optimistic projections.
Median Sales Price (2012-2023) – Redfin
Understanding the Supply-Demand Balance
The dynamics of any market, including housing, revolve around the delicate balance of supply and demand. In the case of the 2023 housing market, the expectation was that prices would fall due to a decline in demand caused by soaring mortgage rates.
Indeed, demand has dipped considerably, as evidenced by a significant reduction in mortgage purchase applications. However, what has kept prices stable is the simultaneous decrease in supply. Fewer people are selling their homes, leading to an extremely low inventory level, which is currently 46% below pre-pandemic levels. This lack of supply has effectively counteracted the reduced demand, preventing further price declines.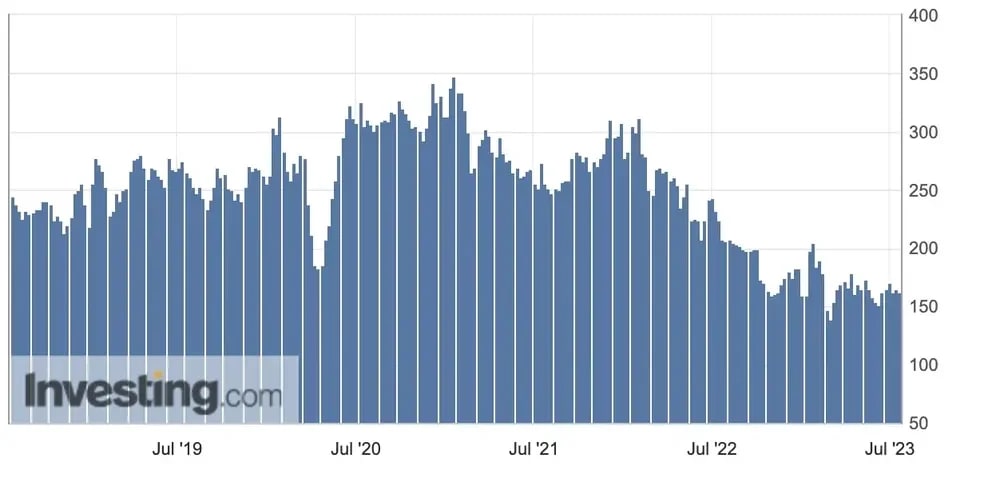 Mortgage Purchase Applications (2018-2023) – Investing.com
Anticipating the Future
To better understand what might unfold in the housing market for the remainder of 2023, we must consider the potential changes in both supply and demand.
On the demand side, several factors could influence the market, including higher interest rates, reduced affordability due to the resumption of student loan payments, increased unemployment, and sustained inflation. Conversely, lower mortgage rates and wage increases outpacing inflation could boost demand.
Regarding supply, while it seems unlikely that inventory could decrease much further, it is still a possibility. The number of new listings has already dropped nearly 30% year over year. Potential sources of increased supply could come from foreclosures, new construction, or sellers choosing to list their properties despite higher rates.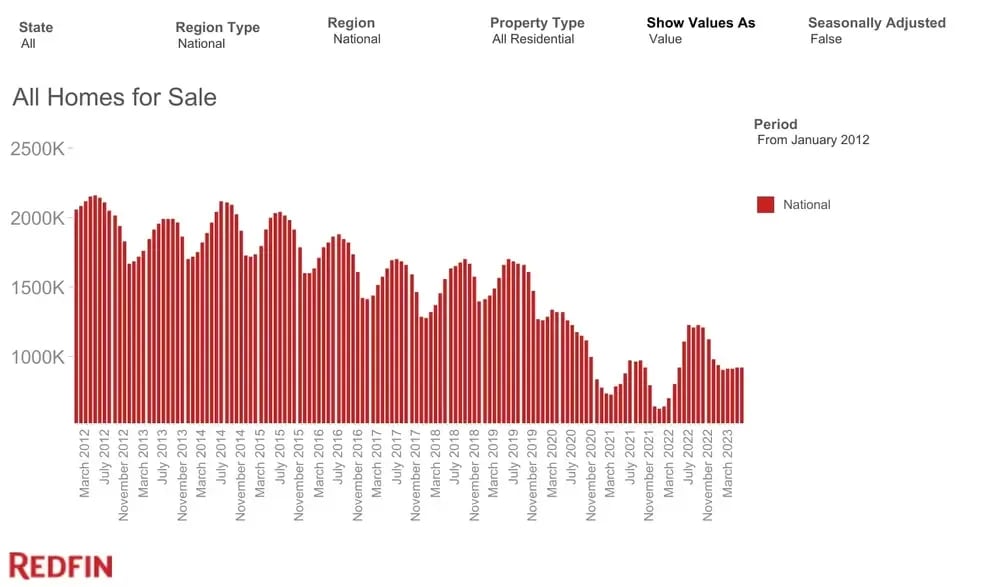 All Homes for Sale (2012-2023) – Redfin
Three Possible Outcomes for 2023
Given the considerable economic uncertainties, let's examine three potential scenarios for the housing market by the end of 2023:
Base case (50% probability): Demand remains relatively flat or experiences a slight decline, while supply remains stable due to the "lock-in effect" of homeowners. Prices are expected to end the year with either a flat or slight YoY change, falling within the range of 3% to -3%.

Downside case (20% probability): A significant increase in layoffs and unemployment results in deteriorating demand, or rising mortgage rates due to surging bond yields put pressure on the market, leading to price declines beyond 3%.

Upside case (30% probability): If the Federal Reserve pauses interest rate hikes and inflation eases, causing mortgage rates to drop and demand to rise, coupled with continued labor market strength, prices may see an increase above 3%.
Investing Wisely Amid Uncertainty
As an investor, it's essential to embrace uncertainty and approach the housing market with a logical mindset. While the future remains uncertain, understanding the factors influencing supply and demand can help you navigate the potential scenarios, manage risks effectively, and make informed investment decisions.
As we move into the second half of 2023, the housing market promises to be an intriguing space to watch, with various variables at play. By staying informed and prepared, investors can position themselves to make the most of the opportunities that arise in this ever-changing landscape.